Perspectives on FND
23 March @ 11:00 am

-

12:00 pm

AEST

Free
We invite you to join us in the lead up to FND Awareness Day, at Perspectives on FND, a free event to raise awareness for Functional Neurological Disorder (FND). 
FND is a neurological disorder affecting motor, movement and sensory functions of the body and is the second most common reason for referral to Neurology worldwide.  Sharing similar symptoms with other better-known conditions such as Multiple Sclerosis and Parkinson's disease, surprisingly little is known about FND.
Founder of FND Living with lived experience of FND, Nerine Williams hosts this national event with two preeminent speakers:
Dr Hui Quek is a Clinical Psychologist with a clinical interest in FND. 
Dr David Palmer is a Movement Disorders Neurologist with a clinical and research interest in FND.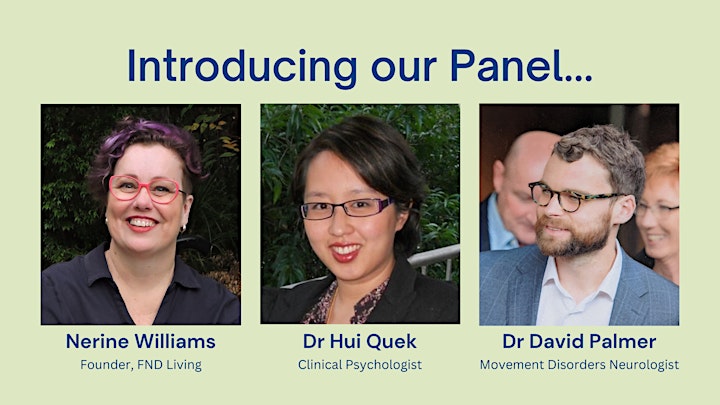 Who should attend?
This event is open to anyone wishing to understand more about Functional Neurological Disorder. We particularly encourage medical and allied health professionals and students, people within the disability sector, government agencies and anyone in the FND community to attend.
How can I attend?
This event is being held physically in Brisbane but broadcast nationally to ensure equitable access, including to those in rural and remote Australia.  This year's event is free, however there are a limited number of tickets available.
Join us in person at Chermside (Brisbane) on Thursday 23rd March 2022 at 11:00am.  Or if you are unable to join us in person, we invite you to join us online at the following times:
9:00am WA
10:30am NT
11:00am QLD
11:30am SA
12:00pm ACT, NSW, VIC, TAS
Secure your ticket via Eventbrite.  We look forward to seeing you on 23rd March.